Baby Safety and COVID-19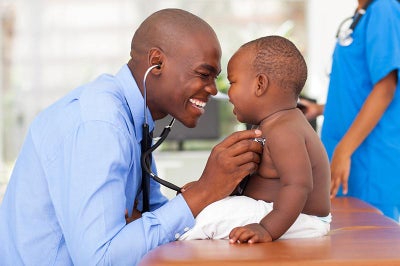 - 9/02/2020
September is Baby Safety Month. Use this month to dedicate a little extra time and love to our babies by learning how to be safe during COVID-19. Perhaps you have asked these questions:
How do I safely bring my newborn home during COVID-19?
A new baby is most vulnerable during its first six weeks of life. Bringing a new baby home before the COVID-19 pandemic meant a flood of visitors, lots of food and lots of hugs. However, COVID-19 is a very real concern and parents of newborns must determine what's safe and what's smart when it comes to allowing extended family to visit during the pandemic. Here are some recommendations:
Restrict visiting during the first six weeks.
Everyone in the house or outdoor space should wear a mask.
Anyone who touches the newborn should wash their hands rather than wear gloves, as gloves tend to become cross contaminated.
During COVID-19, why shouldn't a baby or toddler younger than 2 years old wear a face covering?
Babies and toddlers have smaller airways which makes breathing through a cloth covering more difficult. They are too young to say anything or to remove the covering by themselves and they could suffocate. Some homemade face coverings might have pieces that a baby could choke on, such as strings or elastic bands. It's likely a baby will try to remove a face covering, causing them to touch their face a lot, which can increase the risk of catching and spreading the virus.
How can I protect my baby or toddler from Coronavirus infection?
Keep your family home and away from others as much as possible. If you need to go out because you're an essential worker, or to buy food, access medical care, or get a breath of fresh air, wear a mask, practice social distancing, and wash your hands often.
How do I help prevent spreading Coronavirus at home and in public to protect my baby/toddler from infection?
Avoid people who are sick. Make sure to wash your hands well and often, and teach others in your home to do the same. Handwashing is especially important when you go back into your home after being outside and before handling your child, before breastfeeding or preparing a bottle or food. Also clean the surfaces and objects that people and your baby touch a lot. If you take your child out in an infant carrier, place a blanket over the carrier when it is within your view. Make sure the blanket doesn't touch the baby. Wipe down the carrier or stroller when you get home.
During COVID-19 can I take my child to the doctor's office?
If you think your child is sick, don't wait to get care. Call your doctor for advice or instructions. When you call, ask what they're doing to keep patients safe so you can be prepared should you go in. For example, they may allow only one parent or caregiver to go with the child. Keeping your child's vaccines up to date also is an important way to keep your child healthy. Ask your doctor what the process is for giving vaccines. For regular consults some doctors may use telehealth while others may opt to postpone an in-person visit. An in-person visit right away may be necessary for newborns or children with complex medical conditions.
Learn about Lakeview Center's Infant Mental Health program.