Children's Mental Health Myths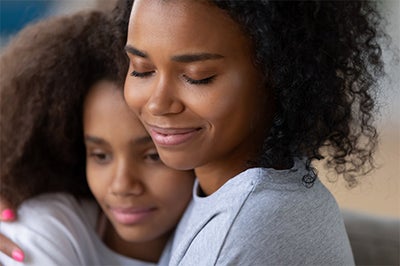 - 3/16/2020
It makes us happy to see a young life blossom and take hold in the community. Mental well-being allows children and youth to think clearly, learn new skills and establish good social connections. Yet we still read and hear messages that de-emphasize the importance of children's mental health.
"Perhaps some people firmly believe in the saying 'innocence is bliss' and since childhood is a time of carefree innocence, they aren't affected by the world around them," said Edna Williams, director or Lakeview Center Children's Services. "I urge them to think again."
Here are a few myth busters on the topic of children's mental health:
Myth:
Children don't experience mental health problems.
Fact:
Half of all mental health concerns show first signs before a person turns 14 years old.
Myth:
Young people threaten suicide to get attention.
Fact:
The rate of youth suicide increased by 49% per 100,000 persons from 2007 to 2017. What's more, in 2017, suicide was the second leading cause of death among individuals between the ages of 10 and 34.
Myth:
Kids are better able to handle adult life if you let them handle childhood bullies on their own.
Fact:
Kids who are bullied experience negative health issues to include: depression, anxiety, sleep and eating changes, loss of interest in activities, decreased academic achievement and general aches and pains.
Myth:
Children will forget about a traumatic experience as they age and be just fine into adulthood.
Fact:
While a child may forget about a person, place or event, his or her body will never forget. Science has shown that children who experience adverse childhood experiences are twice as likely to develop heart disease, three times a likely to have depression, and can have 20 years lower life expectancy. Children who experience trauma have a greater chance of developing a mental health condition later in life.
Myth:
Just one caring, stable adult in a supportive role can determine the level of resilience in a child.
Truth:
This is not a myth. One caring adult can make a huge impact in a child's life.
Some of the reasons children experience mental health issues are shared in two films produced by KPJR Films. The short movies, "Paper Tigers" and "Resilience," shared these statistics about traumatic childhood experiences.
28% experienced physical abuse
27% experience substance abuse
13% experienced domestic violence
20% experienced sexual abuse
A movement is afoot to promote healthy parenting skills in families and communities, share resources for health screenings and form good relationships with young people.
"Our team is engaging the community in trauma informed care," said Williams. "The practice helps adults and children cope with trauma. A person's ACES score provides a guideline that helps determine individualized treatment, but it all starts with one caring adult."
You can participate too by implementing a few simple first steps:
Listen to children and let them do all the talking.
Don't judge or label.
Pause to be that one caring adult when a child expresses frustration, fear or tension.
Together, pediatricians, counselors, teachers, clergy, law enforcement, social workers, friends, parents and neighbors can protect children from the effects of toxic stress.
Read more articles about coping with trauma. Read through our website to learn more about behavioral health supports.