Generations at Work: Collaborating Across Age Groups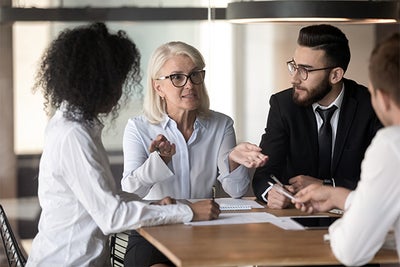 - 6/01/2020
Purdue University created an interesting graphic showing that for the first time in history, we have five generations in the workplace.
2 % Traditionalists – born 1925 to 1945
25% Baby Boomers – born 1946 to 1964
33% Generation X – born 1965 to 1980
35% Millennials – born 1981 to 2000
5% Generation Z – born 2001 to 2020
A big part of workplace well-being hinges on how well we get along with and appreciate people of all ages. The beauty in that notion is that if we pay attention to the range of talents and skillsets, we might even do our jobs better.
Positive interactions across generational age groups can enrich our lives in ways we may never have imagined. The "4 Cs" can keep us on track:
Communication: Clearly state the expectations of a project. Ask questions such as: How do you see this project going? What role do you want to play? How do you imagine us working together? Listen closely to the answers. Listening is an important part of the communication process. It allows us to see the uniqueness of each individual on the team.
Connection: Link tasks, roles and relationships to your organization's vision. Discuss how each person can support the project and ask who they envision working best with to accomplish the goal.
Conflict engagement: Conflict can ignite new ideas and innovation and actually lead to collaboration. Encourage your team to learn from others by fostering team-building opportunities. Also, establish a process for raising issues, voicing different perspectives and engaging productive conflict.
Career development: Career goals are tied to life goals. Every person on the team has the ability to create a climate that supports team members' long- and short-term goals. Here's how:

Learn what's important to your team members and how their positions fulfill their personal and professional needs.
Have regular conversations with team members about their aspirations.
Offer flexibility in work assignments and schedules.
Promote and model work/life balance.
Open a conversation with your team to talk about differences - generational, cultural, gender or otherwise. Don't shy away from discussing the problems and challenges they create. Different perspectives always have the potential to foster creative problem solving and ignite energy.