Third Leg of the Stool - Benefits of Spirituality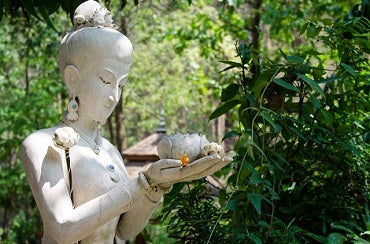 - 10/21/2019
Stressful events such as illness or trauma can force us to think about the meaning of life and our relationships to family, community, society and nature. A lot of people turn to spirituality as a way to rebalance. We measure our well-being in three components, and Dan Hamel, M.Div. , Lakeview Center Chaplain, likes to call the spirituality component the third "leg of the stool."
Three types of self care:
1. Mental
2. Physical
3. Spiritual
Spirituality can evolve and grow within a religious community or simply as a deeper connection with the world around us.
"Spirituality can help us cope with negative events," said Hamel. "Believing in something other than ourselves can help lower stress, lessen depression, create more positive emotions and create a better sense of well-being."
Hamel is a clinically trained chaplain who has served people at Lakeview Center in Pensacola, Florida, since 1999. Human services organizations that have a spiritual care component such as his, have an opportunity to create an environment of respect, inclusion and positivity for people seeking mental health treatment. Not only does spirituality help us treat ourselves better, it also helps us treat others better.
"When we respect the backgrounds and difficulties experienced by those around us, we begin to see the whole person. We are better able to understand and appreciate the context of another person's life."
A spiritual care program combines theological and behavioral health theories into care practices. It does so by integrating concepts such as faith, hope, forgiveness, meaning and remorse. At Lakeview Center any person receiving services can go to the interfaith chapel for reflection or spiritual care services. If you'd like to learn more call Dan Hamel, M.Div., at 850.469.7635.