GCE Names Person with Disability as Employee of the Year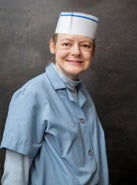 Pensacola, Fla. (January 22, 2018) - Global Connections to Employment (GCE) has selected Allison Ashmore as the 2017 Employee of the Year. Ashmore was chosen from a pool of approximately 1,700 employees who work at site locations across the nation.
From a young age Ashmore was curious about working at the food galley at Naval Station Newport where her father was stationed as a Naval officer. Following high school, she was enrolled at a disability workshop where she helped out in the kitchen. Despite her good work performance, people in the program didn't think she would do well in a hectic, noisy environment like the food galley at the Navy Base. They didn't think it would be a good fit. However, Ashmore persisted and they gave it a try. That was in 1995, and Ashmore's been there ever since. She gives every task 100 percent.
The GCE corporate offices are located in Pensacola, Florida, but the agency manages work contract sites in 14 states and the District of Columbia providing jobs to people with disabilities – people like Allison Ashmore who want a meaningful job.
Read Allison's full story and help share her story to inspire others in our community.